A former classmate recently asked me what I know about Star Wars at Walt Disney World. I decided to answer her with a blog post as my thoughts are much better organized when delivered in text. Also, I know there will be others that ask the same question and this saves me from having to repeat myself. ;o)
What's available now?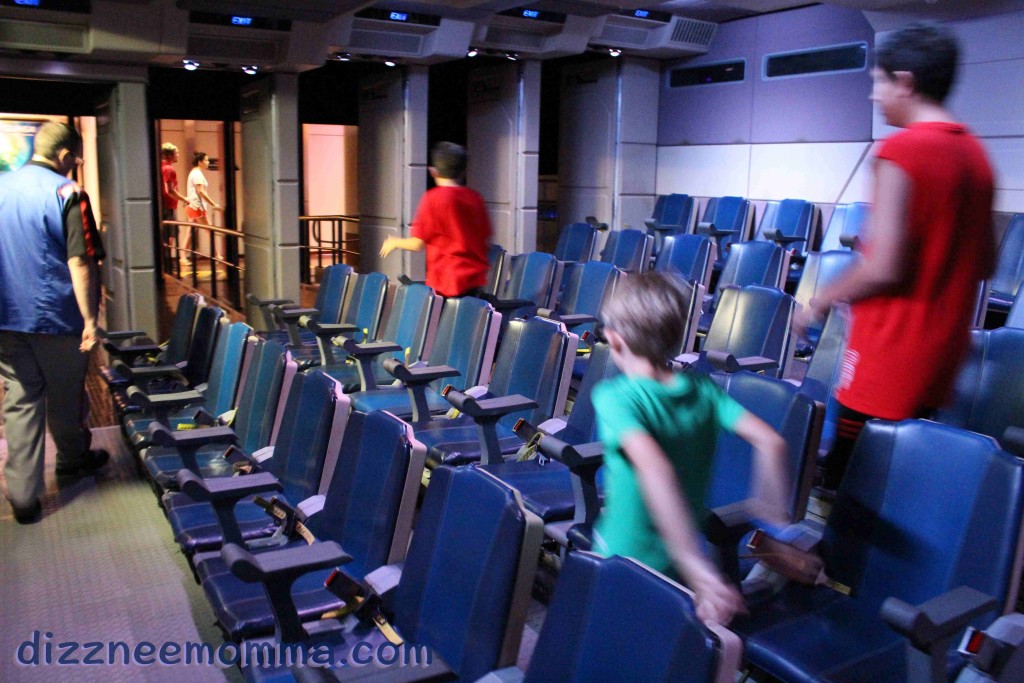 Star Tours
Star Tours – The Adventures Continue is a ride-on attraction with a height requirement of 40 inches. It's a thrilling flight simulator with hi-defintion 3D film and on-board animatronics and special effects. There are more than fifty possible scene sequences, including newly added locations and characters from Star Wars: The Last Jedi. You may want to ride more than once!
The ride queue is well-themed with impressive scenery, familiar audio-animatronic characters and a story that takes you through a tiny ewok village and into the spaceport terminal where your Starspeeder 1000 awaits. On board, you'll buckle into your seat and don your 3D flight glasses. This is an interesting adventure from start to finish.
Complimentary FastPass+ is available for this attraction.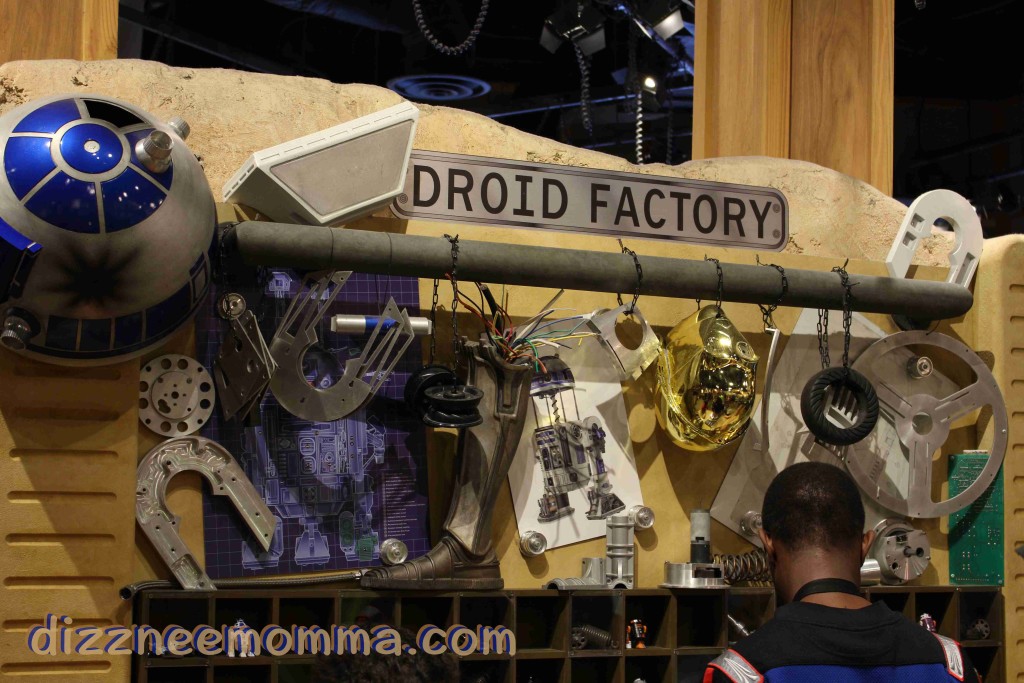 Tatooine Traders
As is the case in most Walt Disney World attractions, once you exit Star Tours, you'll find yourself in a gift shop. Tatooine Traders stocks galactic treasures for Jedi fans of all ages. You'll see Star Wars apparel, toys, key chains, back packs and fine art. Photo souvenirs and build-your-own droids and light sabers enable you to create a more personal souvenir.
Jedi Training: Trials of the Temple
Just outside of Star Tours, Padawans may participate in light saber training under the guidance of the Jedi Masters. Here, young trainees will learn to use the force against the Dark Side. Once trained, they'll prove their abilities in a battle against one of the Dark Side villains. The featured villain may vary from show to show. No specific character is guaranteed.
Each Jedi class accepts 15 to 30 students between the ages of 4 and 12. There are numerous 20-minute sessions throughout the day, but this event is very popular with limited availability. It's important to sign up early and all participants must be present at time of registration.
Star Wars Launch Bay
Launch Bay is home to several different Star Wars experiences. Follow the queue on the left to enter the Launch Bay Theater. Inside, a 10-minute video plays repeatedly all day long. It features exclusive interviews with Star Wars writers, artists, directors and producers. They talk about their backgrounds, inspirations and ideas.
The queue on the right bypasses the theater and leads directly into the Launch Bay. Here you find an impressive collection of Star Wars memorabilia including models, props and costumes. Live characters from both Dark and Light sides of the Force are available for photo opportunities in the meet and greet areas.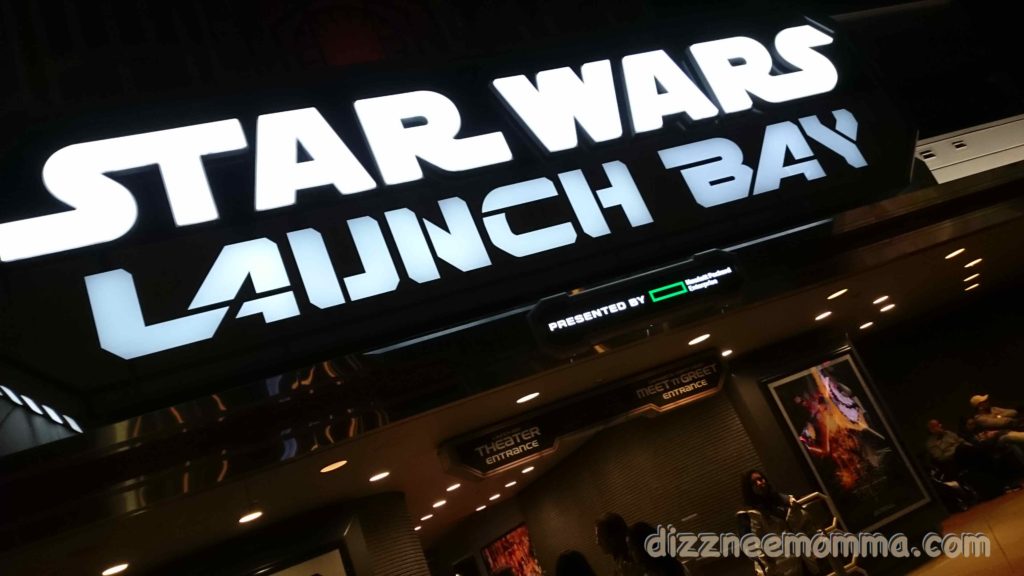 Just before you exit, you pass through Launch Bay Cargo. This is the sister store to Watto's Grotto and Tattooine Traders, but you won't find the same ol' stuff in here. There are all kinds of unique items, including a few with steep price tags. Serious Star Wars fans won't want to miss this distinctive shop. Even if you aren't planning to buy anything it's an fascinating place to browse.
Star Wars: A Galaxy Far, Far Away
This new live action show is performed numerous times each day in front of the Chinese Theater at the Center Stage area. Popular movie scenes are displayed on a large screen as famous Star Wars characters bring the action to life.
Star Wars: A Galactic Spectacular
Beginning again mid-December, a spectacular fireworks show explodes above the park. Much more than just fireworks though, this show also consists of lasers, projections, pyrotechnics and your favorite music from Star Wars soundtracks. It's a good idea to secure your viewing area early.
For an additional charge (about $70/adult $40/child-includes tax/tip), you can watch from a reserved viewing area and enjoy Star Wars themed desserts during the show. You'll need to purchase tickets in advance for this.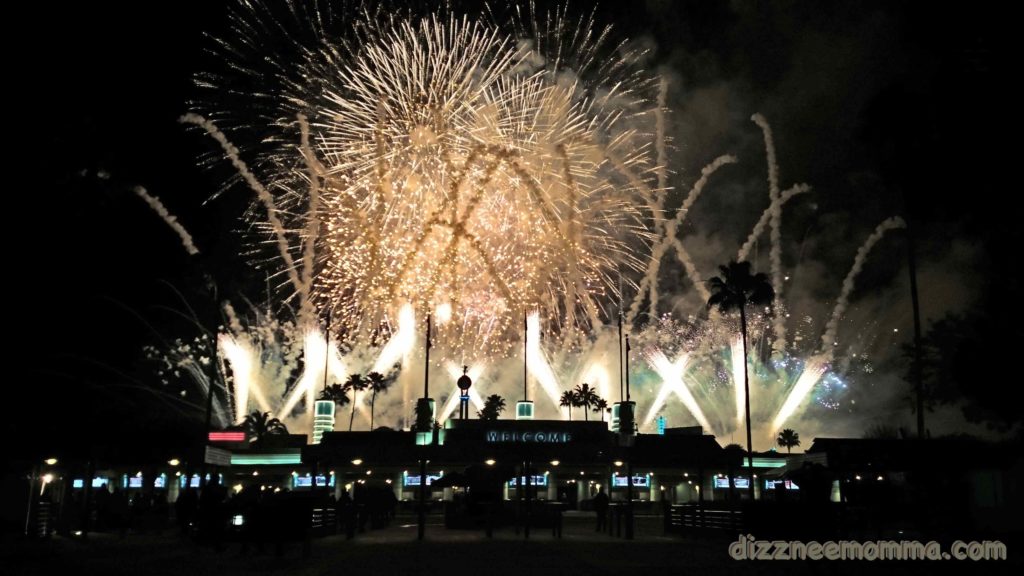 What's to come?
Star Wars Land
Slated for opening in 2019, the Star Wars expansion at Disney's Hollywood Studios will be their largest single-themed expansion ever. The new 14-acre land will take visitors to a never-before-seen planet where the popular saga comes to life. The richly themed area will feature two signature attractions. Guests will find themselves in the midst of a battle between First Order and Resistance forces and can get behind the controls of the Millennium Falcon for a customized journey. Star Wars fans have much to look forward to!