I received free products in order to host a Disney Side @Home Celebration. The opinions expressed here are my own.
Despite a small turnout, my #DisneySide party was a big success. I'm very happy that I was able to host a low-stress event with a lot of simple details. My DVD premier celebration included festive decor, themed treats, entertaining activities, generous goodie bags and of course, the Oscar-winning animated feature, "Big Hero 6."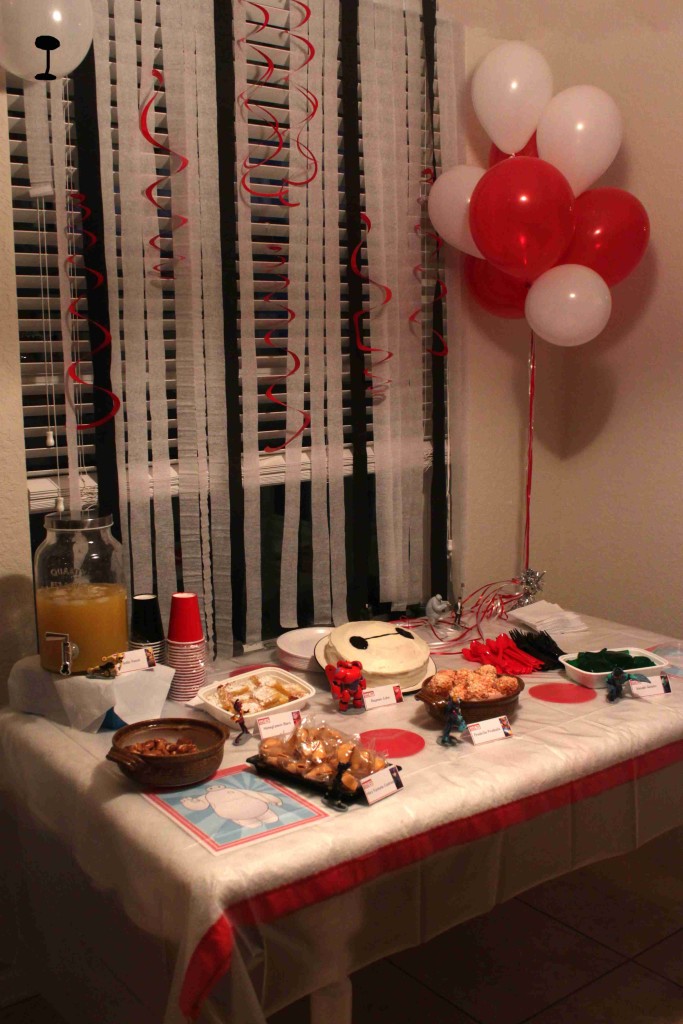 For my decor, I picked up a few inexpensive items from my local party store, used things from my #DisneySide party box and added stuff that I had on hand. I customized the food labels from my Disney Parks party box, with online images from the movie.
The back drop for my table consisted of black and white crepe streamers and white balloons with Baymax eyes drawn on them. I used a small bunch of red and white helium balloons as a centerpiece and I added "Big Hero 6" PVC action figures to accompany their corresponding dish.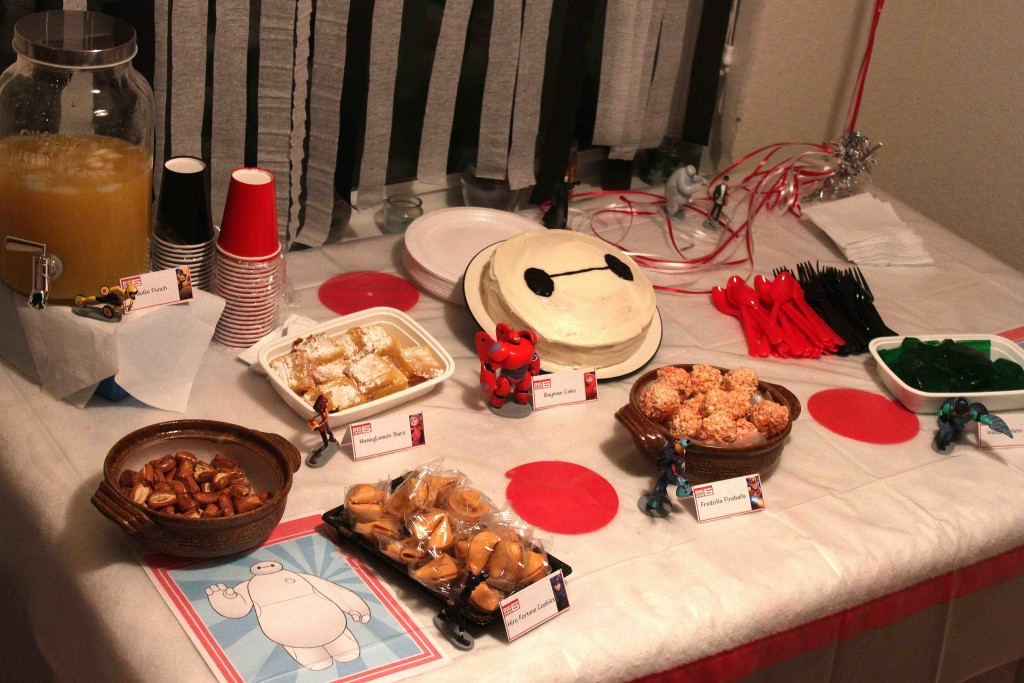 The menu items were a cinch but satisfying.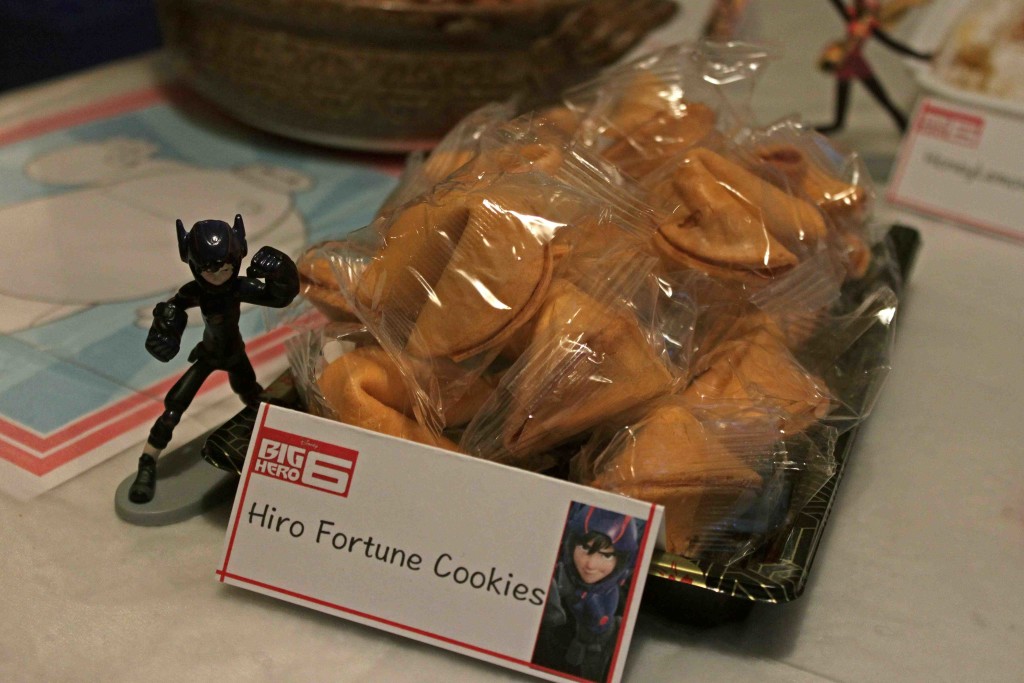 I opened a box of store-bought fortune cookies and dumped them onto a serving tray. Voila! Hiro Fortune Cookies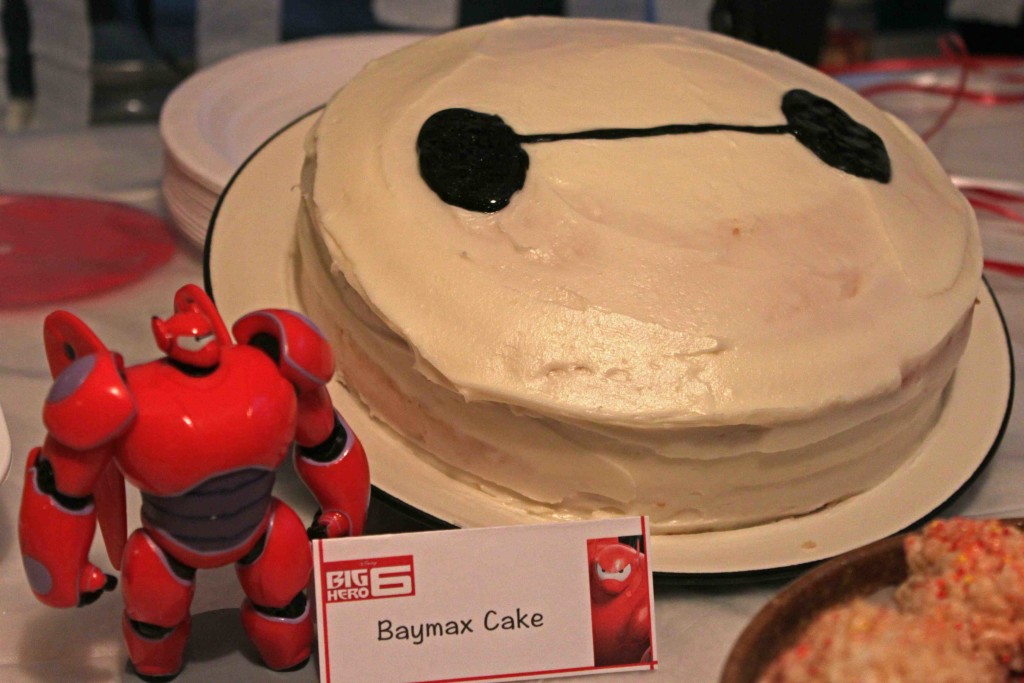 Easy-peasy…round white layer cake with homemade cream cheese frosting and Wilton black sparkle gel features…this was super simple.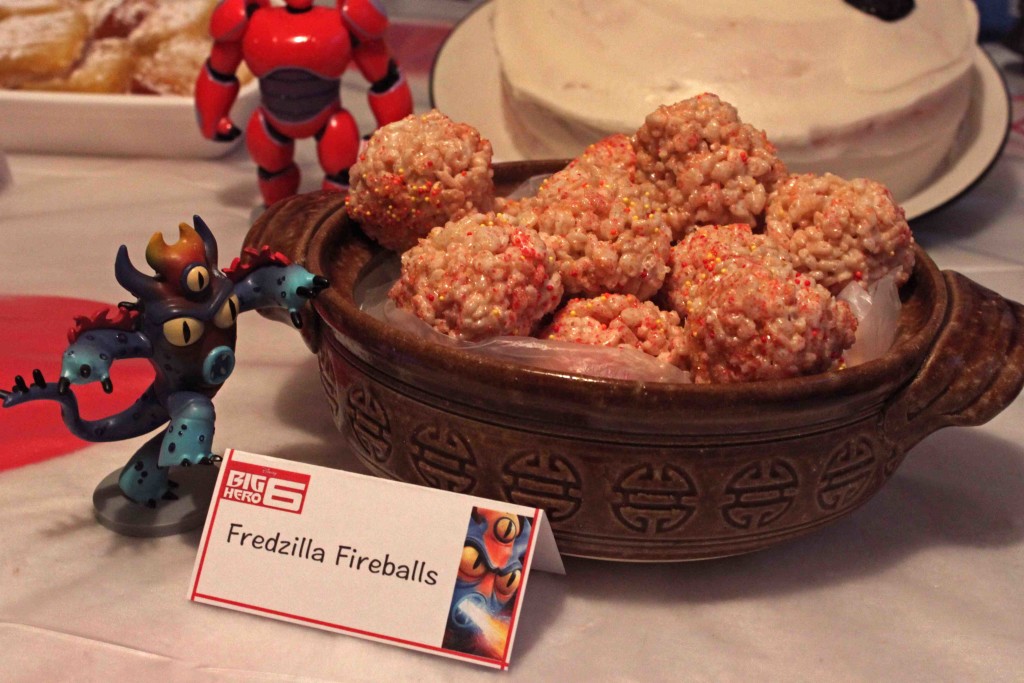 I formed Rice Crispie treats into spheres and dusted them with Wilton red, yellow and orange nonpareils and colored sugars to make Fredzilla Fireballs. BIG hit. Zero leftovers.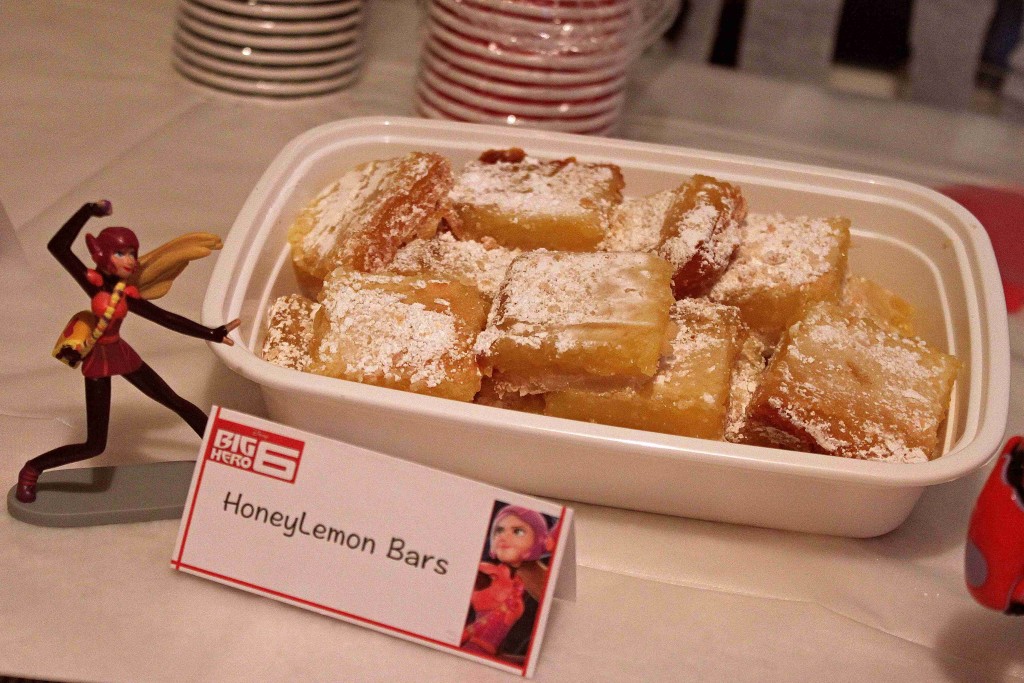 I used a store-bought lemon bar mix and added 1 tablespoon of some yummy local lavender honey to make it party perfect.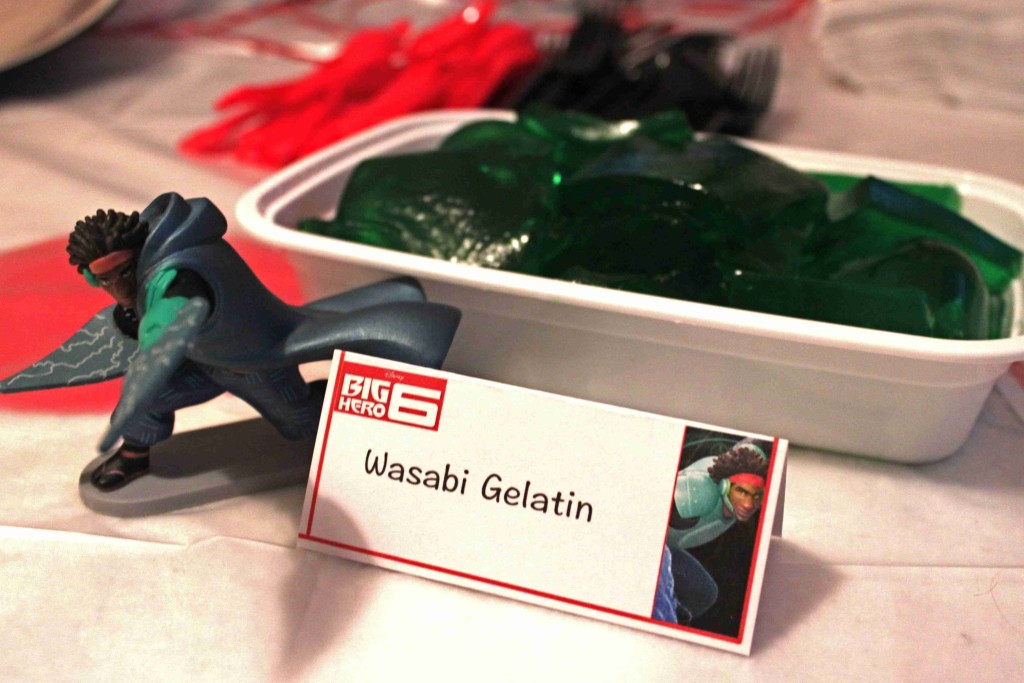 Not really wasabi, but neither is Wasabi! Green gelatin jigglers, another guest favorite.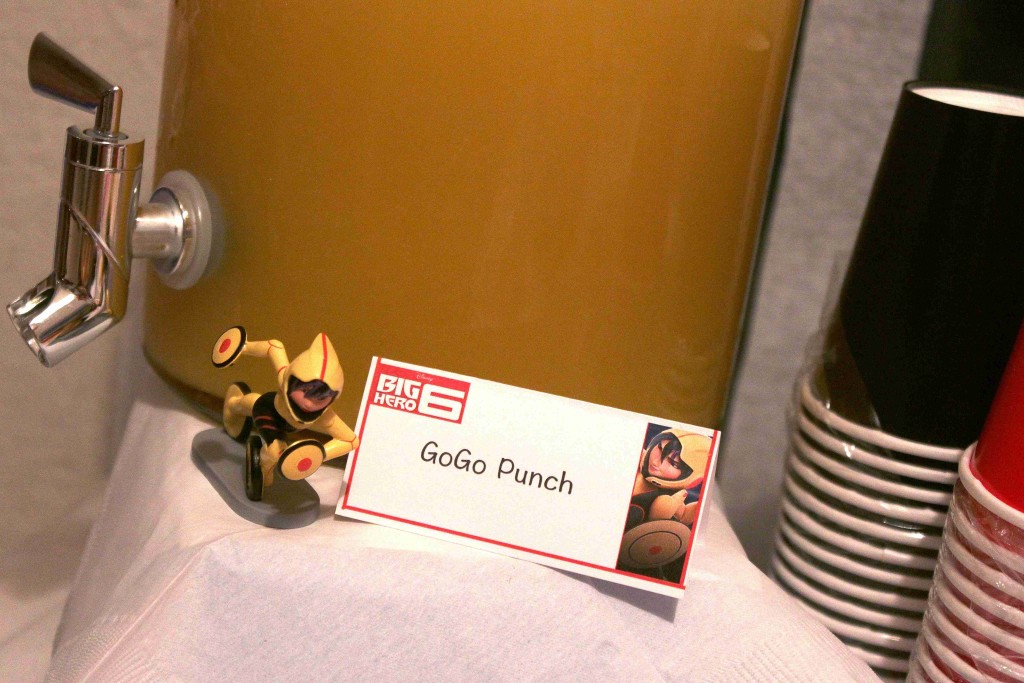 For my GoGo punch, I mixed pineapple juice, orange juice and sprite. Very yummy!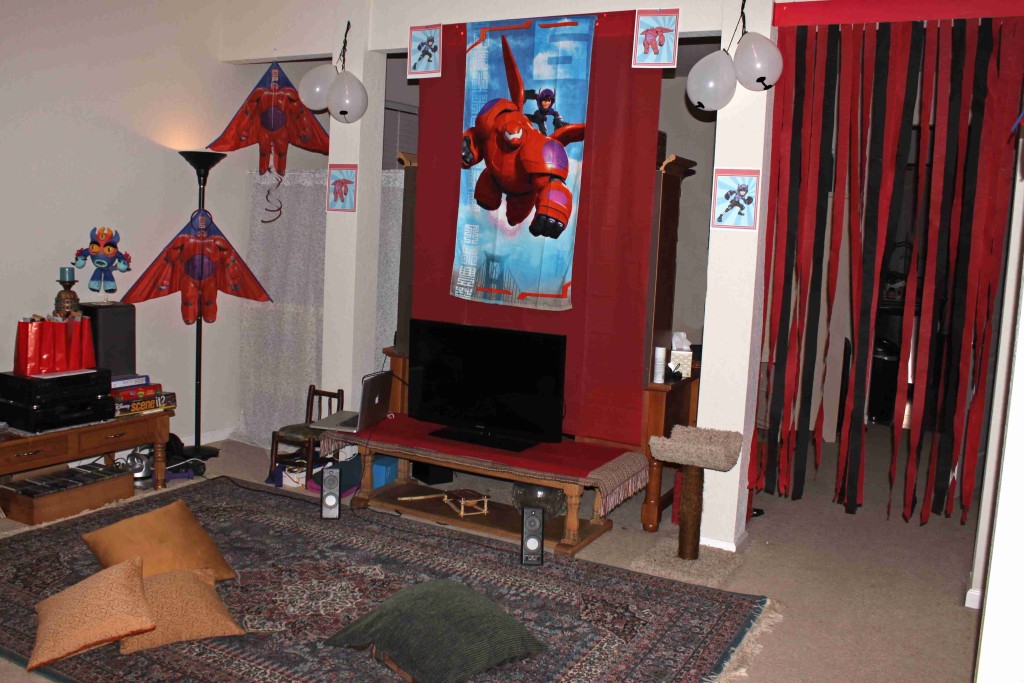 I used Baymax kites and a fabulous Hiro/Baymax beach towel for decorations in my theater. I used crepe streamers and balloons for the theater backdrop.
I really had to restrain myself with this party because of time, but I'm hoping to follow through on some of the ideas I didn't get around to completing. If you like these, keep checking back for future party posts. Or better yet, hit the subscribe button on the side and never miss a thing.
Thanks for stopping by!
I received free products in order to host a Disney Side @Home Celebration. The opinions expressed here are my own.