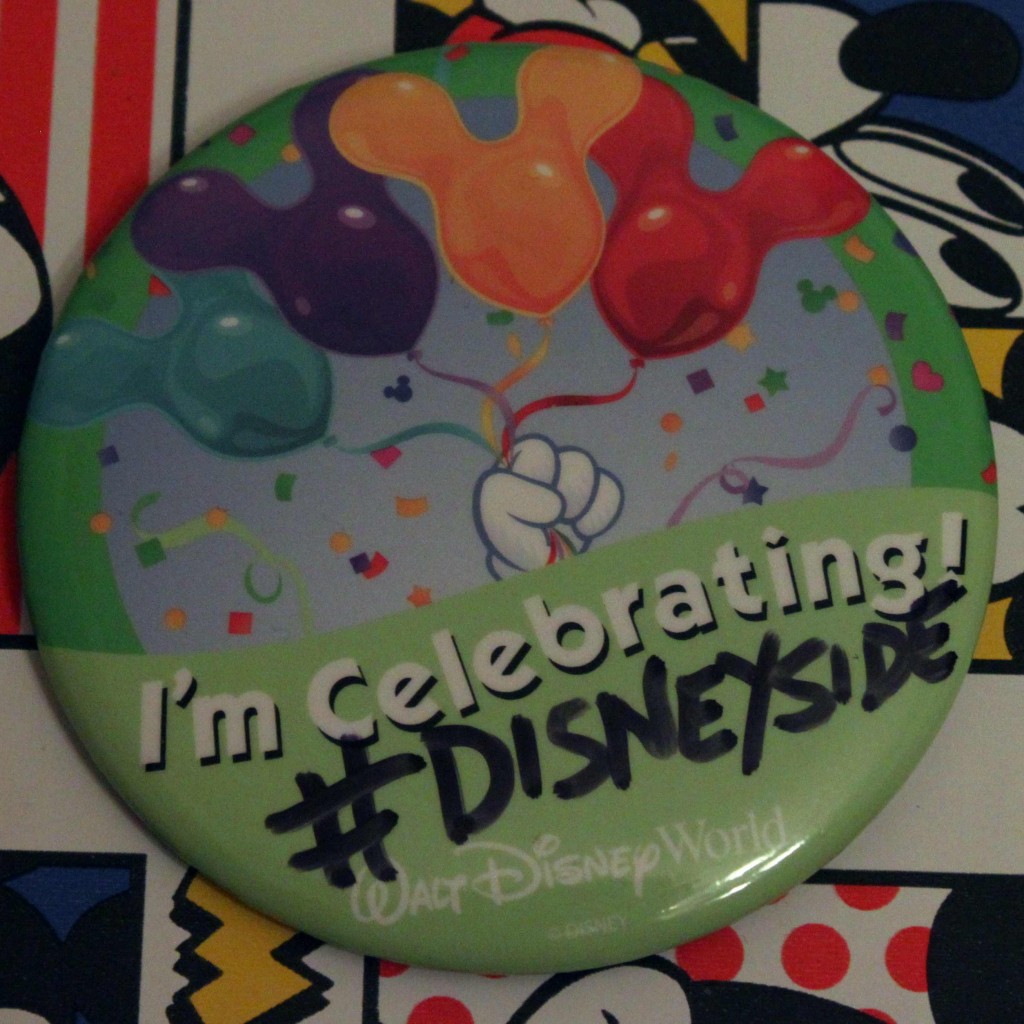 I received free products in order to host the #DisneySide @ Home Celebration. Regardless of such, the opinions expressed here and throughout my blog are, and always will be my own. ~Lucinda
********************************
Party day at last! While I didn't accomplish all that I'd hoped to, I managed to put together a decent #DisneySide @ Home Celebration.
I decorated my dining/family room area with the party kit contents, on-hand Disney memorabilia and a few inexpensive purchases from Party City. The house looked festive and VERY Disney for under $20.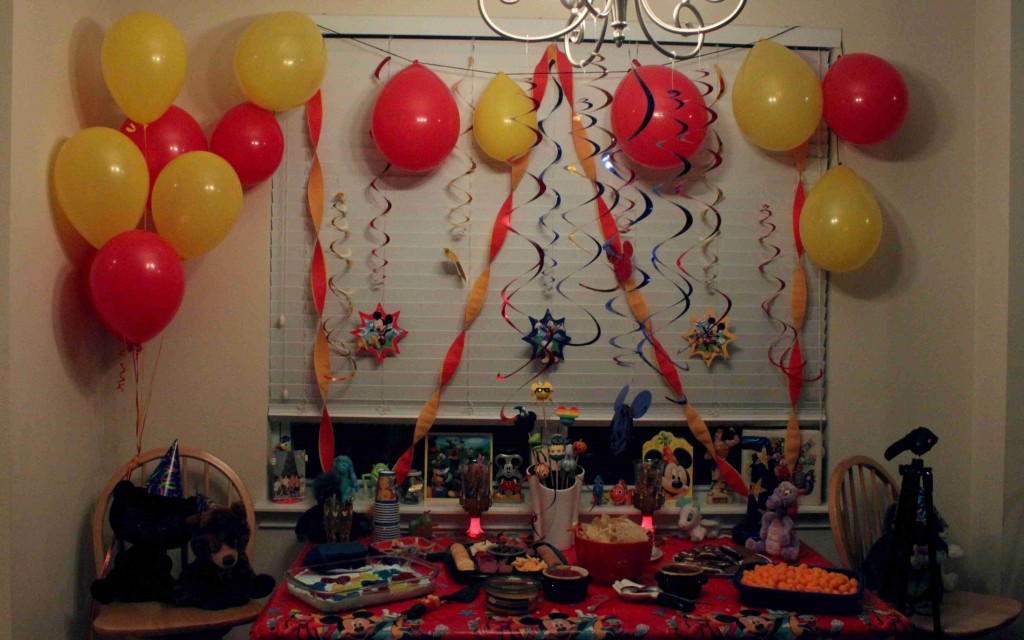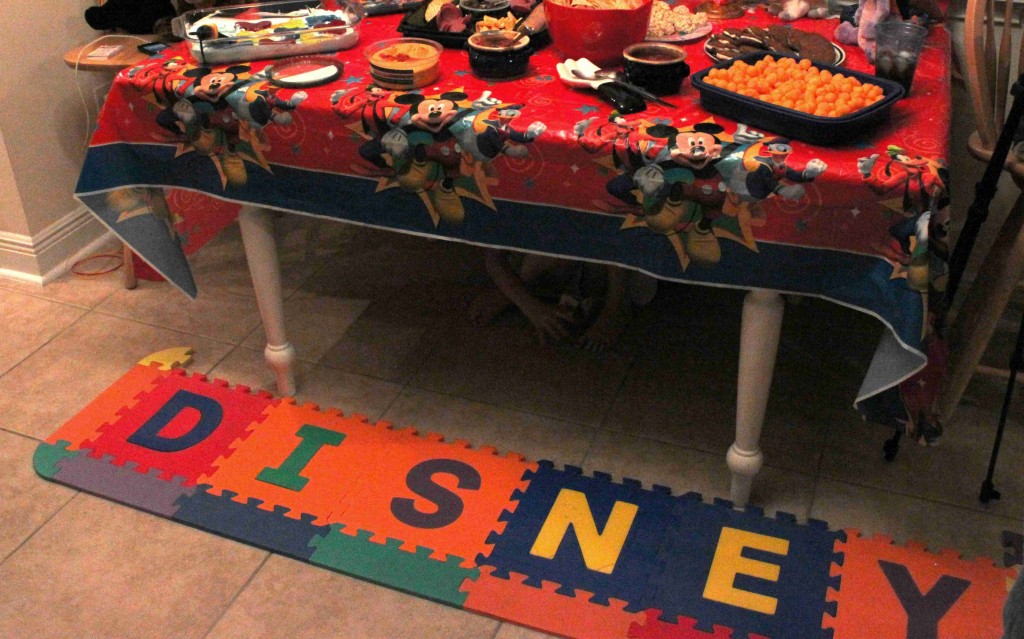 My menu was simple and stress-free for the most part. The food table was stocked with Hidden Mickey gelatin salad, a meat & cheese tray, chips & salsa, Mickey Mouse rice crispie treats, my very favorite item, gluten-free carrot cake cookies (Recipe here!) and cheese balls. We devoured nearly everything…there were barely any leftovers.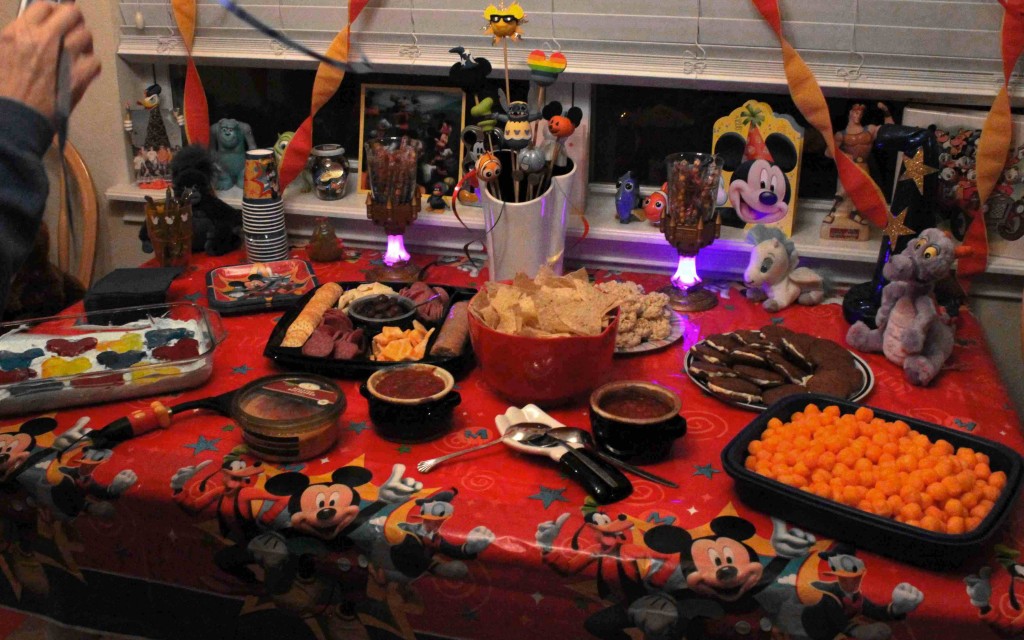 Beverages were served over Hidden Mickey ice cubes.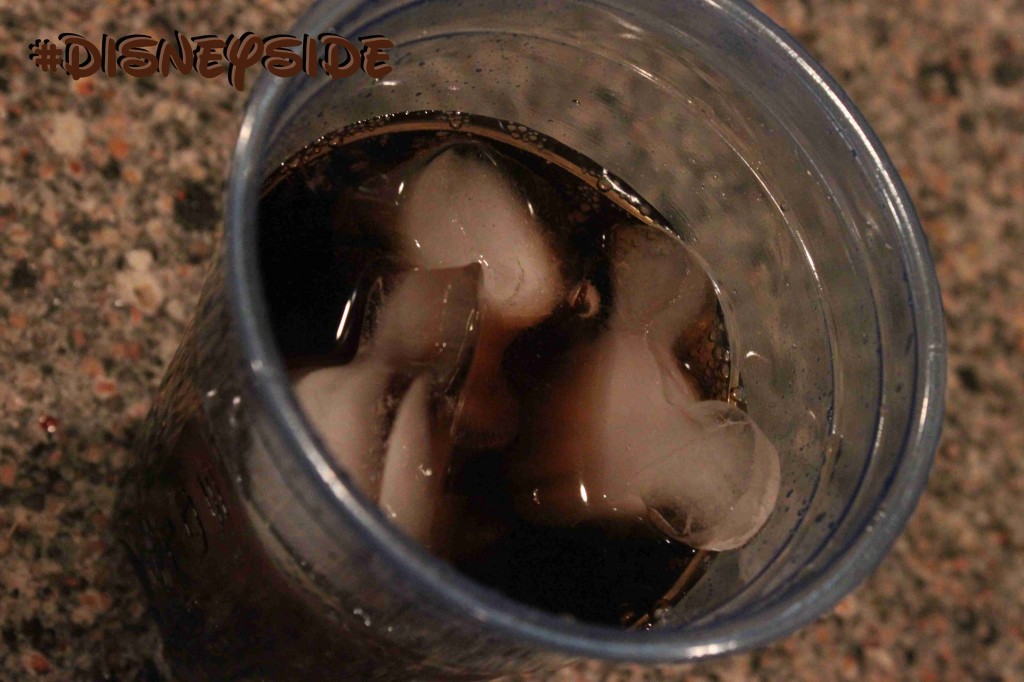 I started the party with an explanation of the #DisneySide campaign and told everyone how I became an @ Home Celebration hostess. I showed off my American Tourister hostess gift.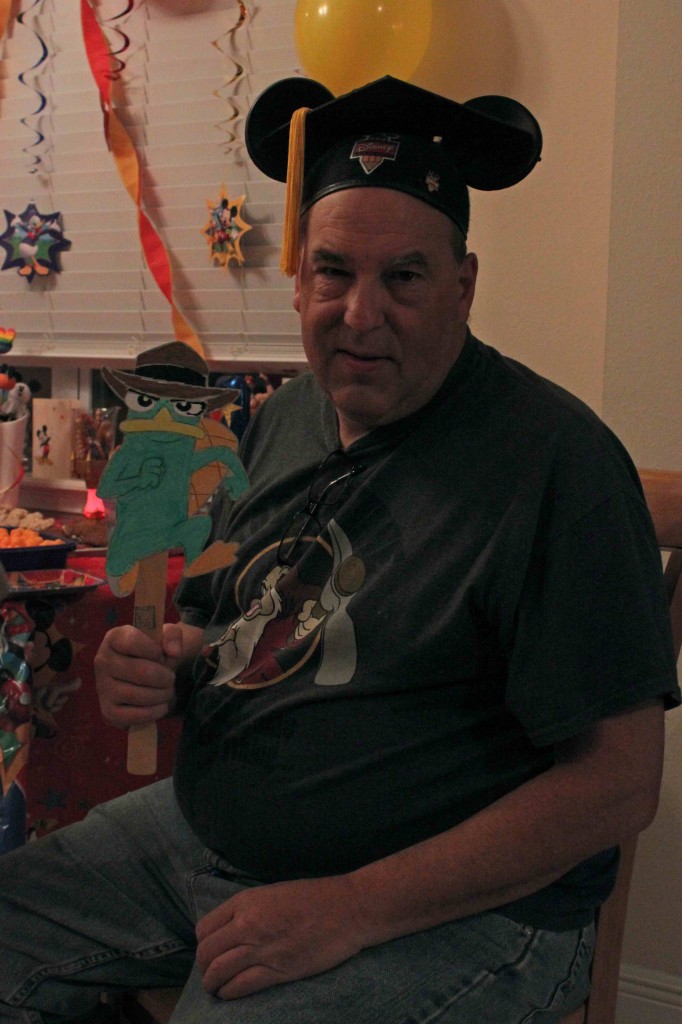 Guests were invited to grab a Duffy or Perry to color as we chatted and got to know one another better. The youngest participants weren't the only ones to express their creative #DisneySide. Some of the "grown-ups" joined in as well. Notice how well my buddy, John stayed inside the lines on his Perry the Platypus.
We folded paper wish makers from a printout I received in 2010. I think even more grown-ups joined in for this. You can print yours here: Disney Wish Maker. An instruction sheet is included in case you've forgotten how to fold these things.
We revealed our competitive #DisneySide with a few rounds of Disney Parks bingo (Warning: Bingo printout page takes a while to load) and the Disney edition of Apples to Apples. I've had this game for a while, but this was my first time ever playing it. I'm glad I thought to finally give it a try. I love that it's simple to play, appealing to all ages and I really like that so many players can join in. It was a perfect fit for the party. Everyone really seemed to enjoy it.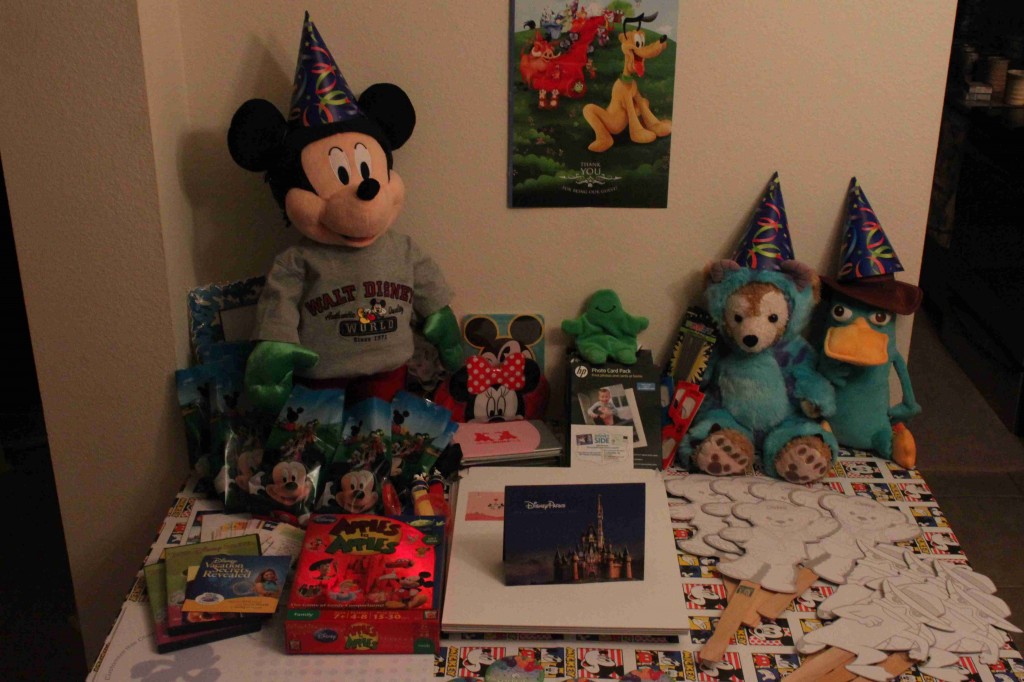 When it was time for the final event, we all stepped outside to watch the back side of Wishes Nighttime Spectacular from my front yard. While the grand version of the fireworks show went off over the tree line, we simultaneously created our own tiny version as the kids played with lighted sparklers. For some of them, it was their first time holding the small flaming sticks. They seemed both delighted and a little wary. They were adorable.
I had take-home goodies for everyone. Treat bags with small toys, candies, stickers and tattoos for the kids…Will Gay lithographs and HP photo card packs for the adults. I shared info for the free HP Photo Creations download and explained how TwoSmiles.com worked. You can read about it HERE: HP Photo Creations & TwoSmiles.com.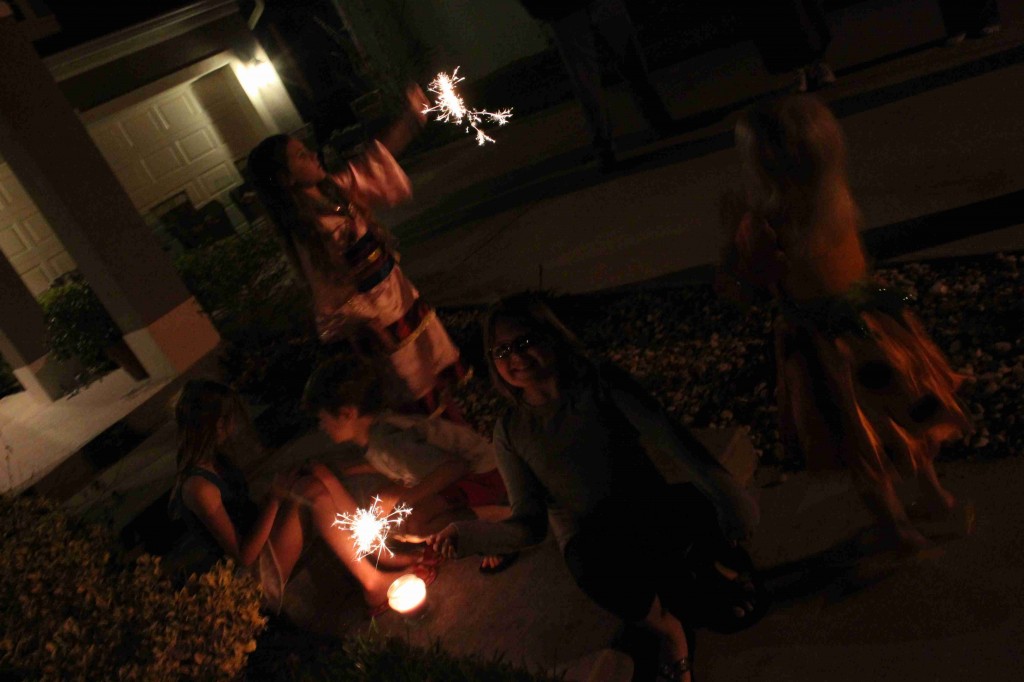 I think everyone went home happy. A couple of the young guests stayed over as the #DisneySide party evolved into my daughter's first Florida slumber party. I'm really happy how everything turned out. Going to have to do this again sometime soon. Nothing better than good times with family and friends…and Disney is a very nice addition to that mix.
If you're interested in throwing your very own #DisneySide @ Home Celebration, check out this site: Disney Side Celebrations. You'll find lots of ideas, recipes and tips that will help you put together a perfect Disney Side party.
My sincerest thanks go out to Leanne and Jamie and their team at Disney Parks and also to Maria Bailey and her team at BSM Media for putting together a wonderful party pack and for allowing me to be a part of a fabulously fun campaign. It was practically perfect in EVERY way! Thank you, thank you!!
I received free products in order to host the #DisneySide @ Home Celebration. Regardless of such, the opinions expressed here and throughout my blog are, and always will be my own. ~Lucinda