I'm not sure when this idea first came to me, but I've been trying to perfect it for a while. My goal is to make a fabulous #DisneySide castle party cake without purchasing expensive pans or kits. This is what I came up with:
I'm using a single boxed cake mix, two 8-inch cake pans, one 12-cup cupcake tin and a dozen cupcake wrappers. If you need to feed a bigger group, use two cake mixes and make 24 cupcakes instead of 12. You'll also need 5 sugar cones, 2 sets of wooden to-go chopsticks and a wooden skewer.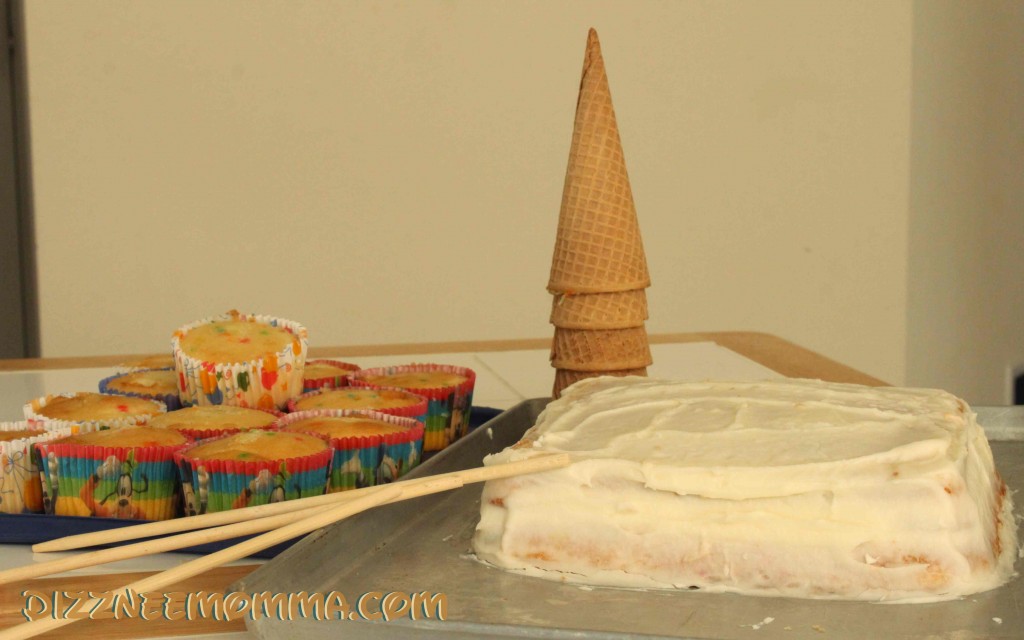 Follow the directions for the cake mix and distribute the batter between your three pans. Fill the cupcake tin(s) first then divide the remaining batter evenly between the two cake pans.
If you're using one cake mix, your layers will be somewhat thin, but they'll be fine. Bake all pans according to box mix directions until a toothpick inserted in the centers comes out clean. Allow cakes to cool for 10 minutes then invert and remove cakes from pans. Leave cupcakes in wrappers.
Whip up your favorite frosting recipe and crumb coat your two 8-inch cakes into one double layer cake. I like this recipe at Wilton.com: http://www.wilton.com/recipe/Buttercream-Icing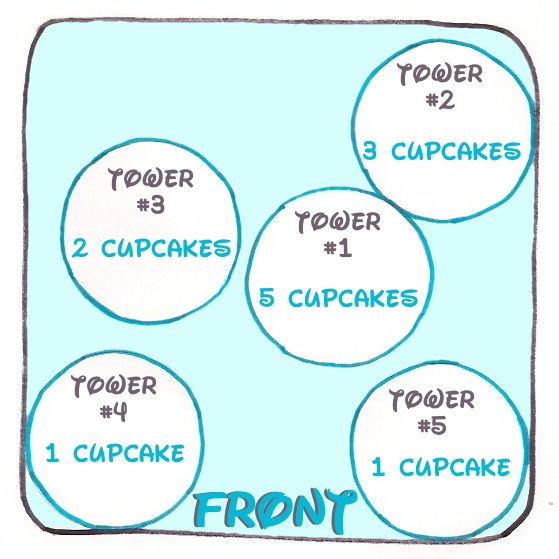 Peel off cupcake wrappers and begin your first cupcake tower. Use the diagram (at right), and assemble towers in the order illustrated. Carefully stack five cupcakes in position #1. Gently pierce the stack with the one of the chopsticks and continue down into the cake to anchor the tower. It's ok to leave the stick poking above the stack. It will be concealed with a sugar cone roof. Cover the tower completely with icing before beginning the next tower.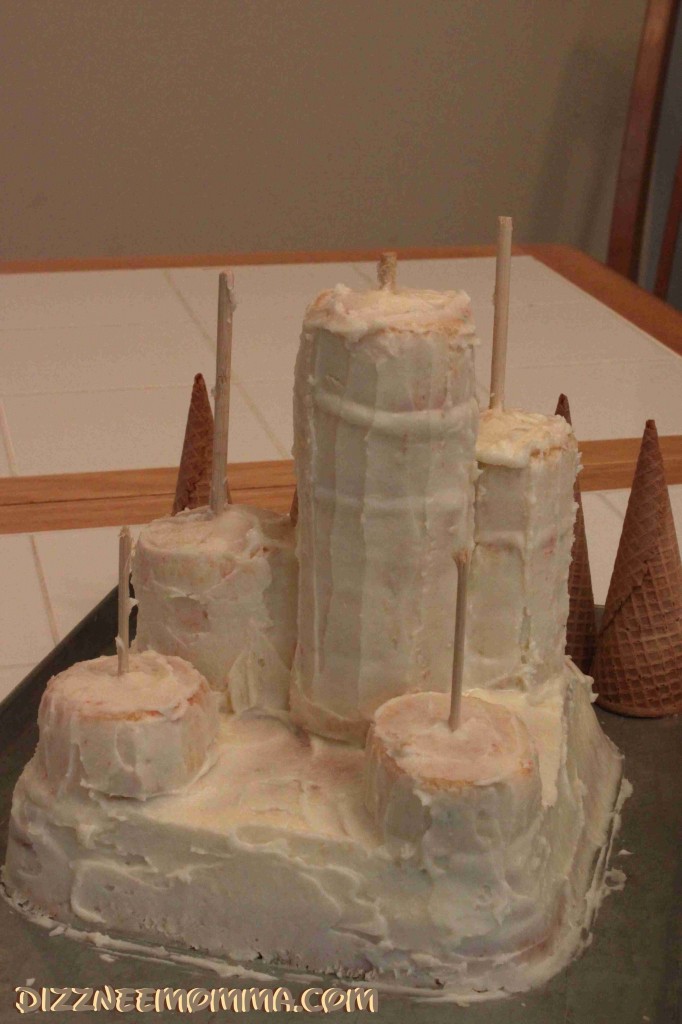 Stack three cupcakes in position #2 and anchor them to the cake with a chopstick. Ice the tower. Stack two cupcakes in position #3 and anchor with a third chopstick. Towers #4 and #5 are made of a single cupcake each and can be anchored with 1/2 of the wooden skewer apiece.
Once the cake and cupcakes are completely covered with icing, begin working on the tower roofs. Holding the cone on two fingers of one hand, coat the outside of the cone with icing then carefully place it atop the center tower. Working your way from the center out, place a frosted cone on each tower.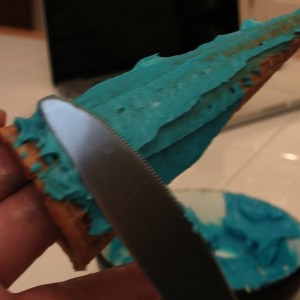 Now you're ready to add details with a decorator bag of icing. I added turret windows and edgings around the base of the roof tops and base of the castle on mine. I would have liked to add flowering vines, but I didn't want to take the chance of messing it up.
You can also use the decorator bag to add bricks to your castle…add glitter decorator sugar for magical sparkle. Be as elaborate or simple as you wish. This cake is actually impressive either way. Someone with more decorating talent than I have could really make this into a stunning cake.
I hope you'll give this cake a try and I wish you great success with it! Enjoy!!