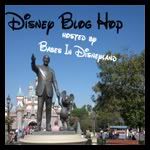 The Disney Blog Hop is back in full force over at Babes in Disneyland. If you're a Disney blog reader or writer, click over and check out the posts from all the great bloggers that have joined in. If you have a Disney post to share, please join us!
This week, the topic is "Special Smiles with the Characters."
Now, up until May of 2006, character interactions with my group were a really small part of our overall Walt Disney World vacation. The difference in 2006, was the addition of a new Disney travel buddy…my then 21 month-old daughter, Miss Ivanka. It was actually her 2nd visit to Walt Disney World, but she was able to participate so much more this time.
This was our first year for table service dining as well. It was quite a leap, but I really wanted to get out of the quick service and food court rut of our previous stays.
My baby girl was quite petite at the time and although I was a little worried that she might be terrified of the giangantic characters, I booked several character meals and hoped for the best.
I should have never worried and I wish I had taken the leap much sooner. Those interactions with the characters were some of the most magical experiences I've ever had in the World. Luckily…it was also the first year that my photos started getting good. I hope you can feel the Magic in these shots…and I hope I've helped you to have a very Disney day.
Smile everybody!!! :o)