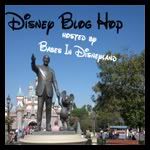 Every Thursday, Babes in Disneyland hosts a blog hop for Disney blogs. Any and all Disney-related posts are welcome. Please join us and share yours!
The theme for this week's Disney Blog Hop is "The Good, the Bad and the Ugly". Sounded complicated to me at first…but with plenty of room for interpretation, it was actually very easy.
The Good:
We're all fond of the humor and happy endings in Disney movies. We love the themes and the fun of Disney parks. But the "Good" of Disney that I appreciate most is their consideration for the environment and the animal kingdom.
These are areas of major concern for me, but I feel I can do little to help. It's a huge comfort to know that Disney is on the ball with these important issues. Disney even provides ways for individuals to help make an impact as well.
Follow the links below to read more about Disney's special ecological programs.
Disney Friends for Change – project green
Disney Worldwide Conservation Fund
…and these links for ways you too, can help.
The Bad:
When I think of Disney and "Bad"…I think of the villains! They enjoy nothing more than "to make the good guys so mad," but we love them in spite of it.
I'm not sure why…but I decided to sketch and color one of my favorite Disney villains for this part of my post. I give you Malificent!
The Uglies:
Well…I didn't really want to go there, but nothing is uglier at Walt Disney World than some of the guests. For the most part, Disney guests are wonderful and I love striking up conversation with people on the buses and monorail, in ride queues and other waiting areas.
But there are some that I just don't understand…and I wish they would quit going to my park.
The obvious Uglies are the line jumpers and parade cutters. There are arguers, complainers and Uglies with generally bad attitudes. I've witnessed Uglies belittle their children to the point of driving ME to tears.
They refuse to make room for others on the buses, or give up their seats to elderly. They even get miffed at people for being in wheelchairs.
Once I heard an Ugly tell his children to pee on the bushes at the Volcano Pool at the Polynesian Resort…with the pool house restrooms only a short distance away. They did.They're pissing on my Magic and I don't like it!
I told you that I didn't want to go there, but I guess there's no sense hiding it. The Uglies exist. And I hate to end my post on a sour note…so quickly go back up to the top of this and re-read "The Good" and "The Bad". But stay away from the Uglies!!