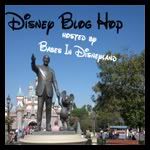 While on vacation at a Disney park, it's often necessary to take a break from all the hustle and crowds to find more relaxing ways to fulfill Disney needs. This week on the Disney Blog Hop we're doing the same thing.
Disney Blog Hop is hosted by Babes in Disneyland and provides bloggers a place to gather and share their Disney-themed posts. As such…it's also a great place for non-blogging, Disney fans to go for a Disney fix.
The assignment this week is to share a picture that is Disney-related but not taken at a Disney park.
I LOVE posting photos so I'm definitely feeling the theme this week. And it shouldn't be too difficult to find good pics, since my life is Disney saturated. As usual, the hard part will come in trying to narrow down my selections to a reasonable number.
First up, is my daughter in her homemade Boo costume. I made the costume and one of the talented Tags at Tagrel.com edited in the Mike and Sully background for this fantastic Monsters Inc. photo avatar that I use on DISboards.com.
Next up…my Disney magnet gallery, aka my fridge. I've been grabbing souvenir magnets from every Disney trip since 1999. My best friend brings me one when she goes as well. I love all the bright colors.
I no longer have a local Disney Store so I was excited to visit the newly opened North State Street store in Downtown Chicago last November. My oldest daughter is a resident so I talked her into taking me when I was there visiting her. Feels like it must be time to head up that way again.
I love gardening. I also love photography. I was taking pics for a photo contest when I noticed the hidden Mickey in my flower bed. This photo won me a prize for "Most Creative" on BloomingDaily.com. My prize…a fabulous flower photo taken on Main Street USA. Winning!
That's all for this week. Be sure to check out the other links on the hop and come back next week for more!