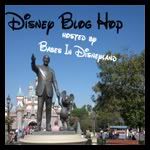 Hip-hip-hooray! It's Disney Blog Hop day!!
Welcome to the fabulously fun blog hop hosted by Babes in Disneyland. Many thanks to Lisa for coming up with the idea and giving Disney bloggers a site to gather and share their Disney-themed posts.
The theme this week is "Blogging Inspirations".
So…Disney bloggers that I admire? My first thought…hands down…is Amanda Tinney of DisneyEveryDay.com.
I met Amanda at the 2010 Disney Social Media Moms Celebration and was impressed with her from the start. She's always looking ahead, moving forward. She's hard working and constantly thinking. She loves what she does and knows how to do it well or learns how to.
She's genuine too, never snooty. Doesn't leave you feeling like she's too good, too busy or only interested in knowing people that can help propel her forward. She recognizes that even the little people, her readers/fans are important.
I think this is the same thing that I admire most about Scott Thomas at Picture This! over on AllEars.Net. He's always responsive to his readers/fans. I appreciate that…and I adore his awesome photographs of my favorite place on Earth!
I know I'm the little guy in the blogging world but I really love being a part of it. It means a lot to be noticed and acknowledged by the "real" bloggers. It's this recognition and acceptance that has inspired me to continue posting…and to keep blogging better.
Now don't think those are my only inspirations…because there are so many (just check the sidebar on my homepage for a few more). Among them is my gracious host, Lisa Robertson of Babes in Disneyland. She inspires me to focus and be consistent by providing the Disney Blog Hop. I am truly…most sincerely grateful Thanks bunches Lisa!!!